Thoughts About Marrying With Money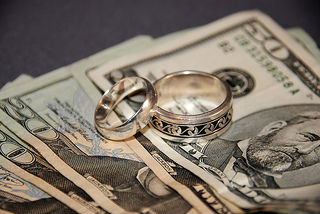 Thanks for those who sent me feedback for the post titled "From Sexual Attraction To Sales Lead Generation". One reader is particularly interested in my view on marrying with money to achieve
financial independence. After living long enough to see a good mix of happy and unhappy marriages, I do found this topic worth exploring with all the readers here.

First, let's set the tune of what this exploration is about. We are not going to talk about how to marry with money, as it is a very specialized field and deserves a separate topic by itself (we can explore this topic per reader's request as I do know quite a handful of success stories and the insights can be worthy to some audience).

What I do want to share is, the role marrying with money plays on our path to financial and personal happiness.

In our society, marriage is a mutual commitment and agreement at will, and either side has the rights to get together or walk out of a legal relationship at any time.

So, regardless of which side is wealthier, as long as both parties are totally honest and true to each others, and they are fully aware of what value each party brings to the table, they both should know exactly what they are getting themselves into and thus, in theory, marrying for money is fundamentally sound.

From the financial standpoint, money driven marriage can possibly be one of the many ways (and possibly the fastest route) to achieve financial independence. Given the right prenup agreement, even in the event of a divorce, there should not be any financial surprises to either party.

However, there are a few caveats we need to bear in mind.

First, money doesn't necessarily buy happiness. In most cases, money only serves as the lubricant, but does not ultimately bring us the lasting sensation of being happy (read till the end for the reasoning).

So we should get to know our very own balance between money and happiness as we commit ourselves into such a relationship.

For those who are overly addicted to materialistic relationship, they can easily fall into the trap set up by many (yes, MANY) con artists out there. Most of the time, instead of marrying with money, they got themselves into a financial scam and ended up losing pretty much everything, not to mention getting themselves seriously in debt.

Moreover, the relationship founded mostly on financial incentive is less likely to hold tight when things turn south. A solid relationship is backed by a good mix of experience and memory we accumulated throughout the journey of life.

In fact, by marrying poor and working out the hardships together as a couple on the way to financial independence, we build up the incredible memory that money can never buy. It is those special magic that makes our relationship with our love one truly rewarding.

In the case of marrying money, all those critical pieces are missing to support a healthy and solid relationship. I am not saying marriage born from hardship will bring us happily ever after ending with absolute certainty, nor am I saying marrying with money will definitely result in failure, but the former certainly has more legs than the latter.

Last but not least, remember this, with money, we can always create memory where everyone is having a wonderful time. But it's the one who is willing to stay with us during the bad times that makes a world of difference to our life.



You may also be interested in the following: